Welcome to the website of
Phillip Frankcombe
Artistic Statement
Since 1980 I have been privileged to know Shri Mataji Nirmala Devi, the founder of Sahaja Yoga.
Through this meditation practice the beauty of The Universal Mother has been shown. This Motherly vibrating energy has been a constant part of my paintings and draws from all spiritual cultures.
Mother Nature has a universal appeal, an eternal presence and power that is so close and embracing, an intrinsic part of the human being that can cross all boundaries.
These earthly and spiritual elements may give the viewer a distinct and familiar link to this subtle energy, to show our privileged but humble position within this surrounding beauty of Mother Earth.
The calm moonlight on water and the fragrance of flowers, the light of the sun revealing the land's bountiful generosity, colour, air and space – Her gifts.
Thank You – Phillip Frankcombe.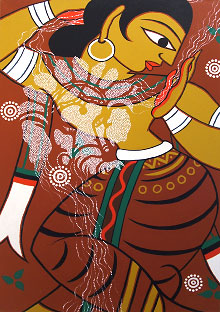 'Jamini Joy' .9 x.6